3146                         
                      Magnus Chess Corner
This is a very active group, we play team matches and vote chess for players of all ratings.
                             Everyone is warmly welcomed club member's
Date
Event
Rounds
Time
 
25 Dec 2018
Arrival
 
 
 
25 Dec 2018
Opening Ceremony


The entrance is for participants and accredited journalists only.

 
19:30
 
25 Dec 2018
Technical Meeting
 
20:30
 
26 Dec 2018
Rapid - day 1
1-5
15:00
 
27 Dec 2018
Rapid - day 2
6-10
15:00
 
28 Dec 2018
Rapid - day 3
11-15
15:00
 
29 Dec 2018
Blitz - day 1
1-12
15:00
 
30 Dec 2018
Blitz - day 2
13-21
14:00
 
30 Dec 2018
Closing Ceremony
 
18:00*
 
31 Dec 2018
Departure
You are the chosen one to help us on our mission to get Magnus Chess Corner to the top ranks on chess.com. 
when we are asleep in another club, we are awake in this one i think our Magnus tries and tells us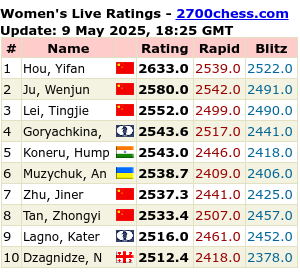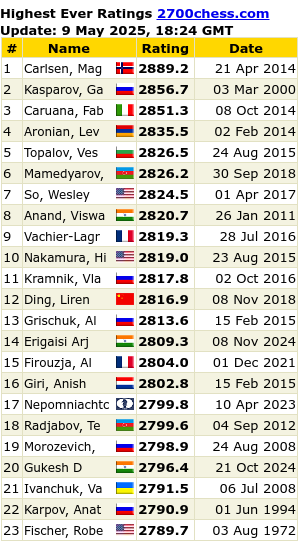 https://www.youtube.com/user/StrategeryCG/videos (Best)
TRY this: https://www.youtube.com/ChessTalk
Hi my good chess friends
With this I wish you all a nice and enchanting Christmas with a lot of Christmas present and Christmas peace and hope you all have a good Christmas atmosphere. As a Christmas easter from me to you, I wish you to challenge me, from December 25th. I accept :) Have a nice Christmas celebration. Let's have fun, I'm looking forward to it
Merry Christmas
GM_Magnus_Kingdom
The four-time World Chess Champion Magnus Carlsen
Feel free to message me or any of the Admins if you need help finding your way around.  We want to be your favorite group on Chess.com!
Best regards, Magnus
 Merry Christmas Everybody!!